"One relationship at a time" is a phrase heard often at The Bank of Missouri. That's because the Bank was founded on the principles of relationship-building 130 years ago. Through relationships, we empower our community with the resources they need to thrive.
"A strong community bank only exists with a strong community," Jeff Hotop said, Community Bank President in Cape Girardeau and Scott City. "It's important that as bankers, we're doing our part to help business owners, to help nonprofits, to help our customers. Not only do we provide them with the resources and tools they need to be successful and meet their financial goals, but also walk alongside them as their friend and neighbor."
It's more than just offering a great banking product or service. Bank of Missouri employees walk alongside our customers through the ups and downs of life, striving to provide trusted expertise and financial empowerment.
Over the last year, we've put this mission into action by giving back to the communities we serve. We partnered with local nonprofits, civic organizations, and public schools to supply the resources they need to help our communities thrive.
In the fall of 2021, our team in southwest Missouri united with Elevate Branson to cover the construction costs of a tiny home, named The Live Well House.
"Through this contribution, The Bank of Missouri is providing a physical, safe, stable home for someone who doesn't have it," said Olivia Darst, VP of Communication at Elevate Branson. "Contributing to this project gives someone the opportunity that they have never had. It is impacting a whole community with a sustainable life change. It's a safe haven to come back to for these people. A total game changer."
Elevate Branson addresses the root causes of poverty in order to create lasting change. They provide resources, relationships, and a network of support that provides hope, dignity, and meaningful work for those who need it.
Tim Scott, the Southwest Region Community Bank President said the contribution is right in line with The Bank of Missouri's mission.
"So many people have had experiences when someone, or some organization, gave a second chance and walked alongside them to help them succeed," Scott said. "Elevate Branson takes that to the highest level, they're making sustainable change for the entire Branson community and that's something The Bank of Missouri is proud to partner with."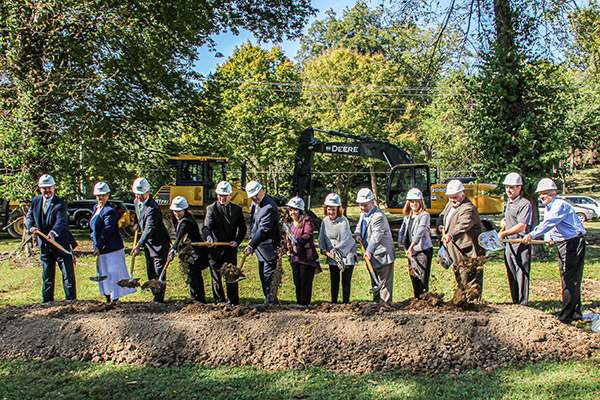 Across Missouri, our team worked to make a difference in our communities:
In Rolla, the Bank partnered with the downtown business association on historic preservation efforts and also with Rolla Public Schools to support construction of the Outdoor Agriculture Classroom at Rolla Technical Institute.
In Poplar Bluff, we built a relationship with the Recycling Grace Women's Center, assisting in the expansion of services at the center and bringing financial literacy to those who need it.
Catholic Charities of Southern Missouri broke ground on a new LifeHouse Crisis Maternity Home in Cape Girardeau. We are proud to support this endeavor to protect and provide for vulnerable mothers in our community.
"Our legacy has always been to invest in our people and invest in our communities" Dawn Dauer said, Chief Banking Officer at The Bank of Missouri. "It's the thread that keeps us going."
As a community bank that's been around since 1891, we recognize the connection between community involvement and the role we play in the neighborhoods where we do business. The Bank of Missouri remains committed to developing strong relationships, and giving with our time, talents, and treasures to make our communities places where families want to grow, people want to meet and business gets done.