Just as we'd walk you around one of our branches and give you a tour, we'd like to take a few moments to walk through four app features we designed with you in mind.
These are just a few of MANY features that will help you Live Well, Bank Well. So, grab your coffee and pull up a seat—let's get started exploring The Bank of Missouri's online mobile banking experience!
1. Organize your dashboard
When you log into your app, the first thing you'll see is your "dashboard." It's the landing page, or a general overview of your accounts. Let's take a look at how you can organize your account view. Click the three dots (…) near your name. Use the third option, "View," to adjust your accounts to be shown side-by-side or stacked. You can also select "Total" to see the total balance of all your accounts put together in one tile.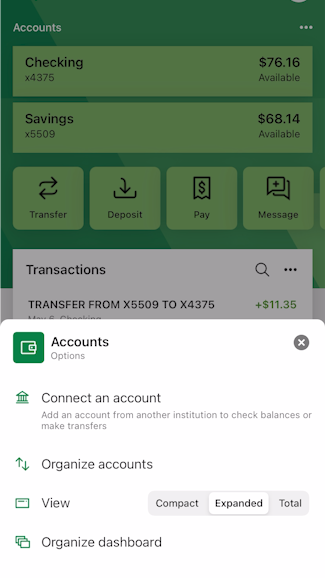 Another part of the dashboard you can organize is transactions. Underneath the accounts tiles, there is a tile for "Transactions." Again, you can click the three dots (…) to organize your view. Change the size to "Small" to a very condensed view with the total number of deposits and withdrawals for all of your accounts put together. Click "Large" to see every transaction for every account you have with The Bank of Missouri. Next to the date of each specific transaction, we let you know from which account that transaction took place. You'll see either the last four digits of your account number, or the nickname you've given that account (for example, "Katie Checking").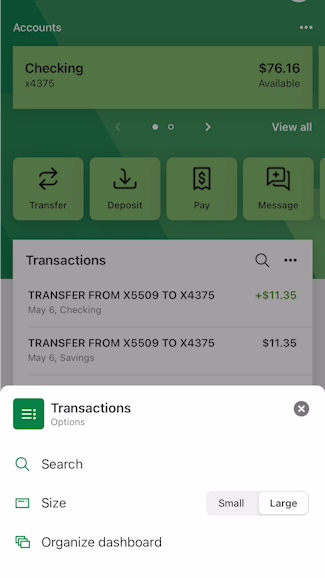 We are so pleased to be able to offer numerous, customizable display options for our wide range of customers with varying organizational preferences. Give it a try any time you see the three dots (…) in a tile!
2. Tagging transactions
We know it's important to keep a budget organized, so we've provided a new organizational feature called "Tags." When you click on any specific transaction in your ledger, you will see the first option beneath the transaction is "Add tags." When you click it, you can create your own nickname, or tag, for that transaction. Whether you want to tag several items as "Business Expenses," "Supplements," or "School-Related Costs"—whatever you come up with—you can tag/nickname your transactions, so that it's easy to identify which transaction was for what purpose later. When your spouse is scrolling through later and is curious about what "ABC123 SCRIPT DOC" was all about, their questions will already be answered when they see the tag you already gave it ("Meds for Dad").
3. Alert preferences
When you log into the app, click on the specific account of your choice to see several options pop up; one of which is Alert preferences. You can set up alerts to notify you by in-app message, text, or email when your account is doing any number of things you'd like to be notified of. For instance, you can ask us to text you any time your account gets below a certain dollar amount. Or you can set up alerts if anyone on your account attempts a purchase of more than a certain dollar amount. See how to set up alerts >>
4. Set up travel notices
At The Bank of Missouri, we're all about streamlining processes and making your life easier. So with that in mind, you have the ability to alert us of your travel by clicking on a little airplane image to the right of "Card Management." When you click that little airplane, it'll take you to another screen where you can then click "Set Up Travel Notices." The next page will prompt you to list your upcoming destinations, dates of your trip, and you'll have the ability to select which cards you have with us that you'd like to use while traveling. Pretty cool, right? And for those of you who are scratching your heads, wondering why you'd need to tell us when you're traveling, it's because we're always on the look-out for any suspicious activity on your bank account(s). If you live in Missouri, but then take a summer trip to Florida or Hawaii (for example), it'd be good to give us a heads-up so we know you're the one swiping to rent surfboards at the beach or to pay for your family's meal at the theme park. It's common for financial institutions to disable cards due to suspicion of fraud, so to help prevent any payment hiccups on your upcoming trip, go ahead and check this feature out.
These are just four of several features to help you manage your money in our mobile banking experience. We hope you find these to be great resources as you work toward your financial goals. If you ever need help with something on your account, or need help finding a feature in the app, just click "Support" within the app to start a chat with our customer experience team. At The Bank of Missouri, we help you Live Well, Bank Well.